What is shockwave therapy?
Shock wave therapy also known as Extracorporeal shock wave therapy (ESWT) is a noninvasive treatment that involves delivery of shock waves to injured soft tissue to reduce pain and promote healing.
Shockwave therapy is a viable option to consider for many patients who present with chronic tendinopathy that hasn't responded to more-conservative treatments. Often difficult to treat, chronic tendinopathy is characterized by localized pain and pathological changes to a tendon. The condition affects athletes and nonathletes alike.
Shockwave therapy works by emitting high energy pulses. These pulses of acoustic energy are focused on the target tissues by the handpiece / applicator of the shockwave therapy machine and are believed to cause localized microtrauma that stimulates the bodies natural healing processes. The shock waves are believed to stimulate angiogenesis / neovascularization (new blood vessels) and neurogenesis (new nerve cells). The microtrauma increases local circulation and enhances breakdown of calcifications (calcium build-up).
What conditions are treated by shockwave therapy?
Shockwave therapy has shown to effectively treat the following conditions:
Feet pain – heel spurs, plantar fasciitis, Achilles tendonitis
Elbow pain– Tennis and Golfer's elbow
Shoulder pain- Rotator cuff tendinosis
Knee pain- patellar tendonitis
Hip pain- bursitis, Proximal hamstring tendinopathy
Lower leg – shin splints, Posterior tibial tendinopathy
Upper leg – Iliotibial band friction syndrome
Back pain – lumbar and cervical spine regions and chronic muscular pain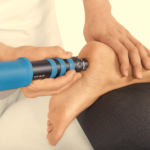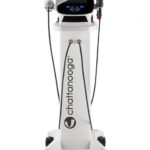 Whilst some patients experience slight pressure or discomfort, the treatment is not generally painful. Given that shockwave therapy only usually lasts for around five minutes a session, most patients are able to tolerate it quite well. Occasionally, if the area being treated is already very painful, some increase in discomfort may be experienced during treatment. You should communicate any discomfort to your physiotherapist as they also have the ability to reduce the intensity of the treatment, and increase it gradually over the course of your shockwave therapy sessions as you become more tolerant.
Side effects from ESWT are limited to mild bruising, swelling, pain, numbness or tingling in the treated area.
HAVE MORE QUESTIONS ABOUT SHOCKWAVE?
NOT SURE IF SHOCKWAVE IS SUITABLE FOR YOUR CONDITION?
PLEASE, CALL US TO BOOK FREE CONSULTATION WITH PHYSIOTHERAPIST.